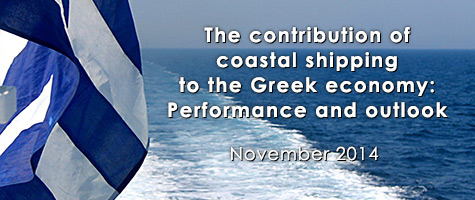 The contribution of coastal shipping to the Greek economy: Performance and outlook
The scope of the study is to document the contribution of the coastal maritime sector to the Greek economy, considering also the catalytic effects associated with the development of tourism, agriculture and manufacturing in the Greek islands. Additionally, the study examines the main issues related to the utilisation of the sector's potential....
Read more...
Evaluation of the Current Taxation Regime for Tobacco Products in Greece
The analysis seeks to examine the fiscal effectiveness of the current taxation regime for tobacco products in Greece, taking into account the impact of tax changes on prices, demand for individual categories of tobacco products and the size of the illicit market. In light of this an estimate is made of the change in tax revenues from tobacco products for the period 2014-2016, both by assuming that the existing tax regime will be retaine...
Read more...
Financial Data of Oil and Oil Products for 2013
This study attempts to assess and evaluate the trend in 2013 according to the available financial data about the companies members of SEEPE. Apart from the basic financial data the study analyses the profitability indicators for every company of the sample and for the whole industry. Additionally presents the financial data and the profitability indicators for the period 2000-2013....
Read more...
About Ι.Ο.Β.Ε.
The Foundation for Economic & Industrial Research (IOBE) is a private, non-profit, public-benefit research organisation.
| | | |
| --- | --- | --- |
| | It was established in 1975 with the dual purpose of promoting research on current problems and prospects of the Greek economy and its sectors and of generating reliable info... Read More | |
Press Office
Next report of Business and Consumer Surveys concerning November results, will be released on December 2 , 2014...


More announcements...