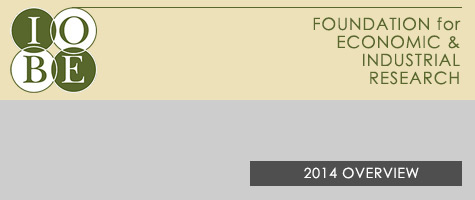 The Impact of the Athens 2004 Olympic Games on the Greek Economy
The aim of the study is to examine the economic impact of the Olympic Games ten years after their completion. The study examines the economic impact of the Olympic Games internationally, analyses the revenue and expenditure from the Olympic Games in Athens, quantifies econometrically the impact of the Games on incoming tourism and assesses their overall impact on the Greek economy, using appropriate macroeconomic models....
Read more...
The Film Industry in Greece: Economic Impact
The scope of this study is to determine the contribution of the film industry to the Greek economy, to analyse the obstacles to foreign film production in Greece and to quantify the potential economic benefits from removing these obstacles....
Read more...
The contribution of coastal shipping to the Greek economy: Performance and outlook
The scope of the study is to document the contribution of the coastal maritime sector to the Greek economy, considering also the catalytic effects associated with the development of tourism, agriculture and manufacturing in the Greek islands. Additionally, the study examines the main issues related to the utilisation of the sector's potential....
Read more...
About Ι.Ο.Β.Ε.
The Foundation for Economic & Industrial Research (IOBE) is a private, non-profit, public-benefit research organisation.
| | | |
| --- | --- | --- |
| | It was established in 1975 with the dual purpose of promoting research on current problems and prospects of the Greek economy and its sectors and of generating reliable info... Read More | |
Press Office
Next report of Business and Consumer Surveys concerning March results, will be released on April 1, 2015...


More announcements...